Inpro/Seal Bearing Isolators are made of high quality bronze and are designed to last for at least 100,000 pumping hours. 100,000 hours equals 11.4 years, making the 3-year guarantee very conservative.
The Inpro/Seal "VBX®" Bearing Isolator is the only labyrinth seal to afford positive protection against vapor transfer into the lube system, both at rest and under load. Before Inpro/Seal invented the Bearing Isolator, pump bearings were "protected" with rubber lip seals. Lip seals quit sealing at 3,000 hours according to manufacturers. They just don't belong in your critical industrial equipment.
Today, most ANSI Pumps are made with some sort of lip seal replacements. For maximum reliability, make sure that they are genuine Inpros. All others are just imitations.
Solid and split designs are all available from Stevco Seals & Pumps Victoria.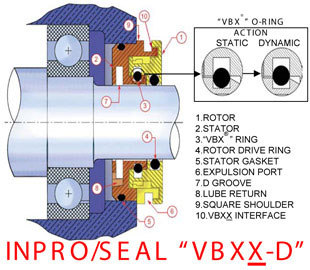 About
Downloads
Client Area